I already posted this in the "builds" category, but I forgot that there was this category "bikes with motors."
so for you guys who only come to the bikes with motors category, here's my drag bike.
It started out as a Bratz lowrider that i put the engine on about 3 years ago.
I got bored with the lowrider look so i decided to do something different with it.
here's what it looked like before i made any changes.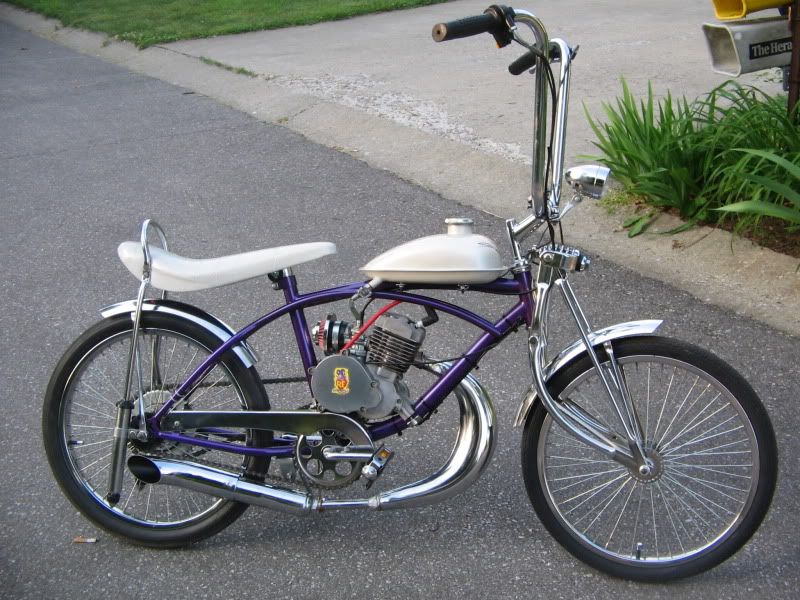 I chopped 2 coils out of the spring in the front, which lowered the front end maybe an inch and a half.
put on a set of drag bars, chopped the seat post tube on the frame to get the seat as low as possible and re-did the exhaust.
the exhaust is an expansion chamber with a modified baffle that I built, all welded together and wrapped with header wrap.
I took the headlight off and gutted it. I made a bracket to bolt it to the neck, and flipped it around.
I made a clear lens for it, and a gauge face with the moon logo on it, and I put a digital speedometer inside of it.
I had to add a caliper brake to the rear wheel because the pegs on the rear axle is where my feet now go when i ride it.
I'm waiting on some custom made vinyl chain guard decals that my friend made up for me.
here's the speedometer that i made.
here's the chain guard decals that i'm waiting for.
here's the bike all done except for the chain guard decals.