Now that there are over 100 entries I figured it was about time I threw my hat in the ring for this build off. I'm turning a 1998 Electra Rocket 24 into a retro racer. The bike was originally build as a cheap MTB with a big price tag (about $800), as seen in the first pic!
This is the original abomination in MTB form: 24 speed, Rock Shox fork, MTB caliper brakes, 26" wheels, and one sweet aluminum frame!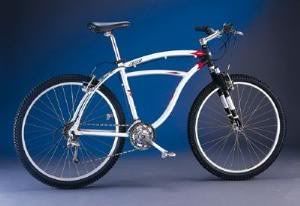 This is my original mock up to see if a 700c wheel would fit. I was contemplating big 26" slicks, but really wanted a road worthy machine for longer rides:
Here are today's mock up (5/15/2011). I will not be using the parts in this pic, except for the frame, but you get the idea.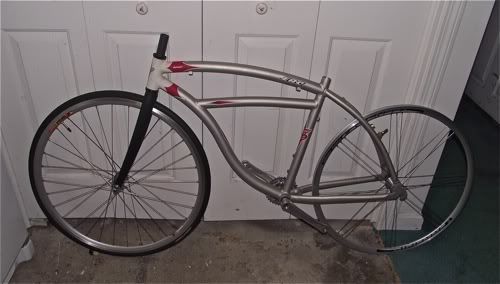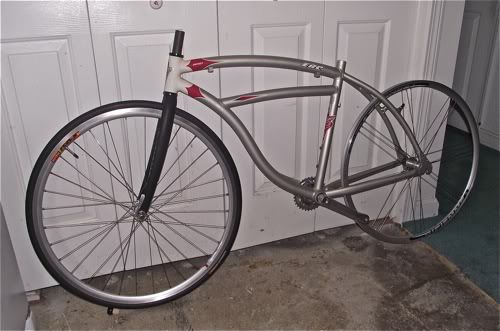 Here's a list o0f what I am planning to use:
Velocity 700c wheels mounted to an Alfine 8-speed IGH hub (rear), and an Alfine dyno hub (front)
Orange Fyxation Session 700c x 28 urban tires
Motobecane vintage 3 piece crank with a 52t chainring
Winwood Muddy carbon fork
Avid BB7 disc brakes front and rear
Orange Fyxation grips and bar ends
Ritchey bars
Gyes leather saddle and saddle bag
Stem (to be determined dependent on geometry)
Custom paint (yes with Rustoleum rattle cans) with custom design, home made stencils, etc.
For all you hardcore rat rodders think board tracker on steroids! LOL