UPDATE 6/2!- Nixed the triple trees for something more creative.
OK so you guys are inspiring me to finish a rat I that has been sitting as ideas for too long. The build off might be just the pressure I need. This is a bit regurgitated from my stalled start. But here we go.
It started with this little nugget right here. Picked up for $35 bones. '69 Sears Spyder 5-speed.
Love the bike, stripped it and primed it with a rust inhibitor primer w/ a foam brush. But the problem I had with the original design is that the sissy bar broke up the flow of this bike. Especially the line created from the chainguard to the fender. So using an old car rim as a form I bent the h*** out of that sissy!
I liked the lines that created, but worried about it bending under my weight, so I need to anchor the front nose of the seat, using the original post as a fulcrum. At the moment the thing I like most is the drum brake shoe from my 1971 Datsun! It should be plenty strong. You can see foamcore where I plan on cutting the shoe.
I think the seat looks pretty cool now Though it will need some prettying up!
I am also thinking it would be wicked to mount the 5-speed stick shift to the 'hump' in the middle of the brake shoe!
Pics!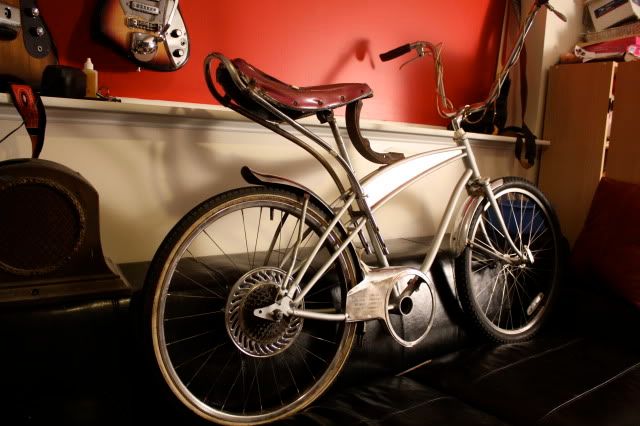 I was surprised how well the bent sissy bolted in front of that back wheel! I used long bolts with rubber hoses on them for protection (top one isn't all the way in there yet!) Still have lots of room for the twin brake calipers.
Long way to go but you guys are inspiring me to take it to the finishline.