Well I've decided to build the "Future Schooling of Old School" Rat Rod Bikes. From this point forward, I shall affectionately refer to her as "2fer".
Her History:
About this time last year, one of the young delinquents, that lived in the park where I worked, wanted me to loan him some money for a Pepsi and cigarettes. I refused and he left, not only as in leaving the area but as in leaving his bike. I put it in lockup so no one would take it. I saw him the next day and told him it was in the lock up area and we got it out. He left the bike several more times over the week and each time I would lock it up. Finally I told him if he did'nt want the bike I'd buy it from him. He told me $25.00. I said that I'd give him $10.00 and he accepted.
He even loaded the bike in my van for me.
Later that day I saw him with a 12 pack of Pepsi and a pack of cigarettes. For him, life was good, at least that day! A few days later he waved to me from the rear window of the Police car that was taking him back to jail.
Any ways, the bike is a Mongoose tandem Mt.Bike. It has 21 speeds, most of which don't work, and a severely bent back rim. The frame is aluminum and is super light. The handlebars on it are ones for another project and are only on 2fer so I can move her around.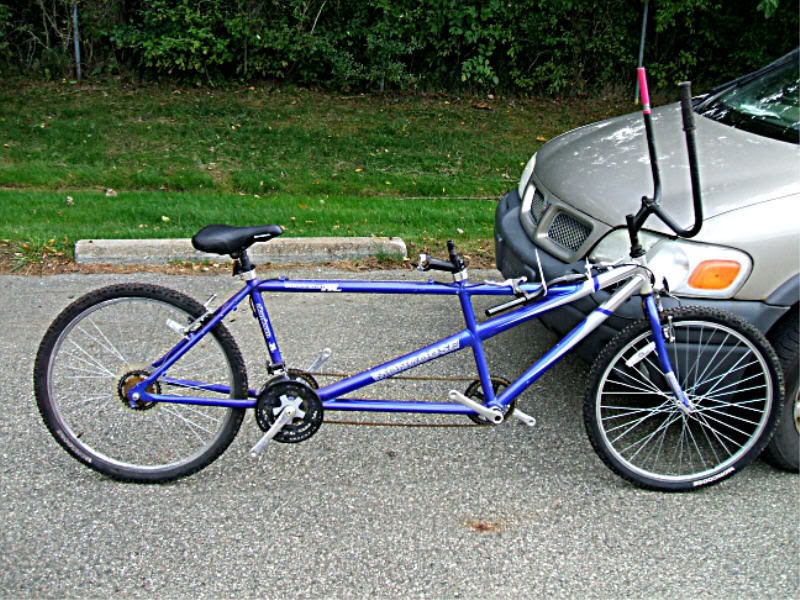 I have some ideas for her that will emerge over the next few weeks. I plan on putting dualing Bannanas for the riders. One big ol' sissybar on the back and some "reach for the clouds" handlebars on the front. Gonna check the junk bins for some cool crap to rat it out. I plan on using some of them thar red/brown tires on her and I've got some matching paint to throw on the frame in places. I'm sure I'll use alot of flat black and I'll try to find a coordinating color to go with the other two choices.
Hope my choice of bikes works out. After all it is the "Future Schooling of Old School" Rat Rod Bikes, affectionately known as "2fer"!
Thanks,
Chainsaw