Hi everyone, so been doing bit more to the wheels again today, though i've still not finshed the second one yet, I have finished the first one.
so I thought I would upload a few of the pictures that iv'e been taking for you guys to see, so you can see the paint process I have used.
Here are the wheels as I had them from the donor bicycle.
First step was to get those cracked tyres off and I gave them a light sand.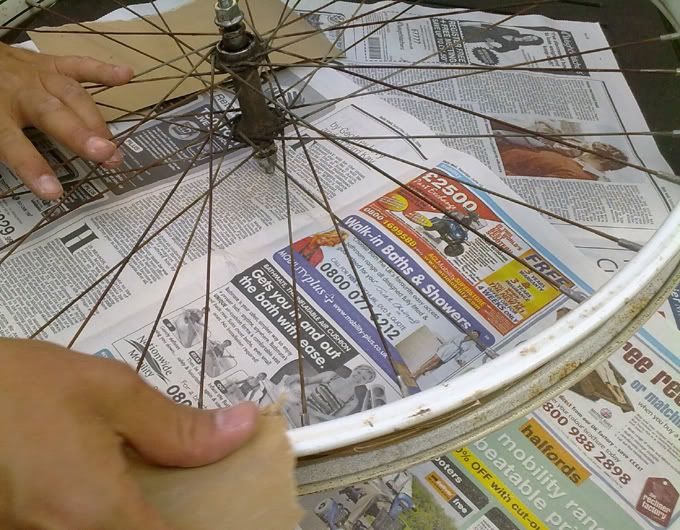 I then sprayed on the textured suede chocolate paint.( Plasti-kote Suede Touch Chocolate 4310 ).This paint is a really good base and when you run your hand over it, it has the feel of a rusty surface.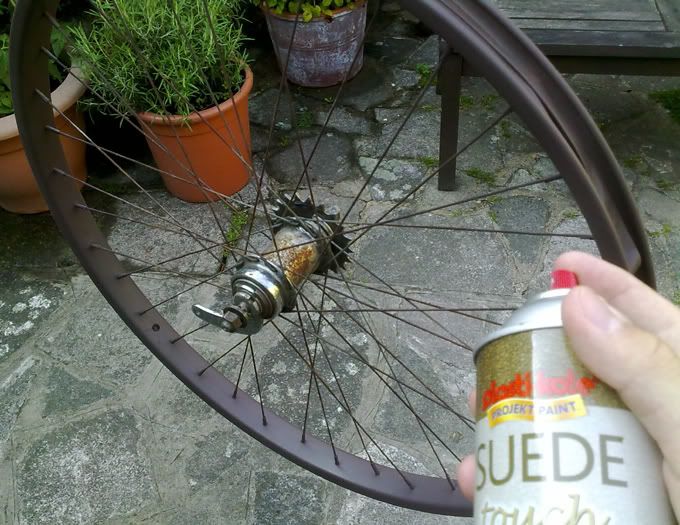 Then I sprayed on the ( Plastic-Kote Chocolate Praline Matt Super 3107).
Then used a water colour paint called ' Burnt Sienna '.You apply it all over, quite roughly, with lots of water so as it sits on the surface,
leaving the drips to run or stay where they want to go.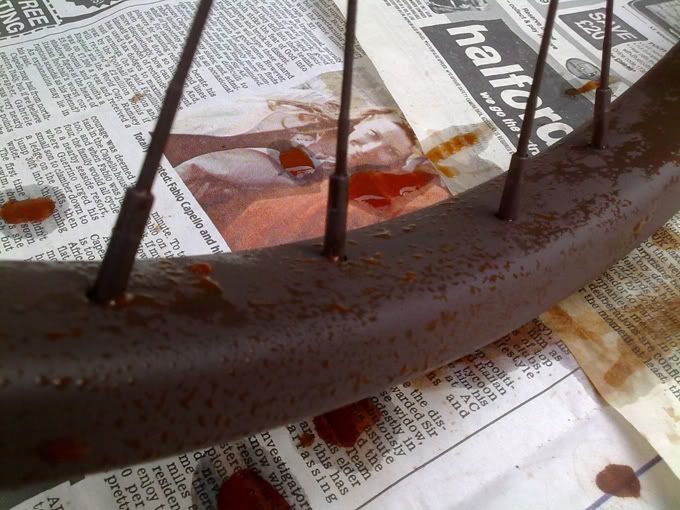 Once this has dried, it leaves you with a really nice patchy look, which sort of looks like rusty water marks.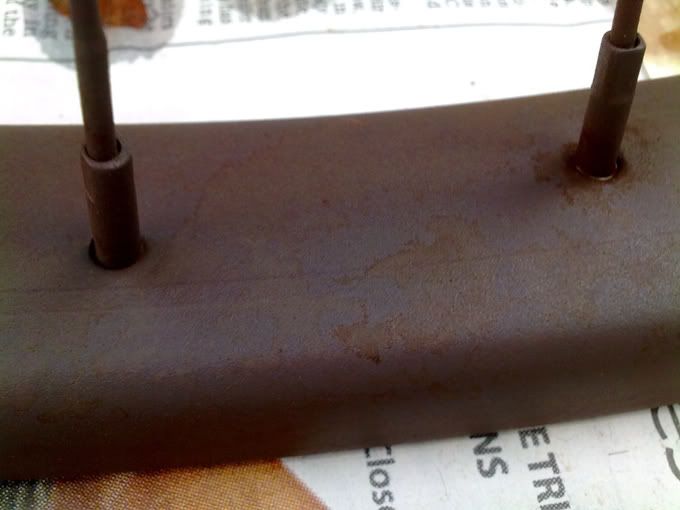 The next step is to try and get that pitted rusty orange.I did this by using a colour called ' Vermin Brown ' ( a Warhammer Games Workshop Paint ), which is really an orange.Again I used quite a bit of water with this so it goes on easier.With a short bristled brush and a tea spoon, I flicked the paint very very finely on.You need to do this in bits, because if it drys, the orange looks a bit too dark.
So once you flick the paint, take a piece of kitchen paper and gently dab off the flicked paint, so you still get the mark but it is subtle.I built up
layers until I had the look I was happy with.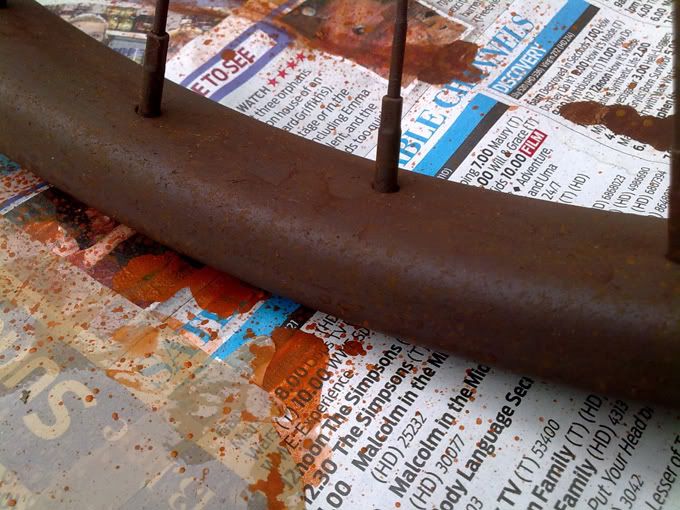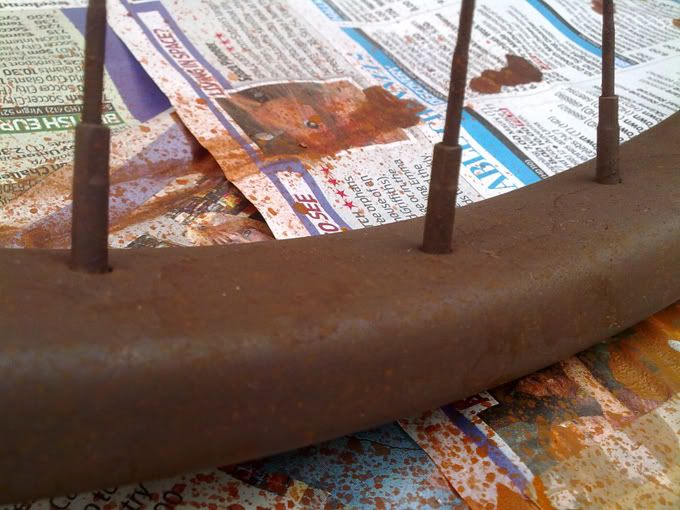 I then used Vermin Brown again in the areas where rust build up would be, around the bottom of the spokes.Just to give it a bit more texture.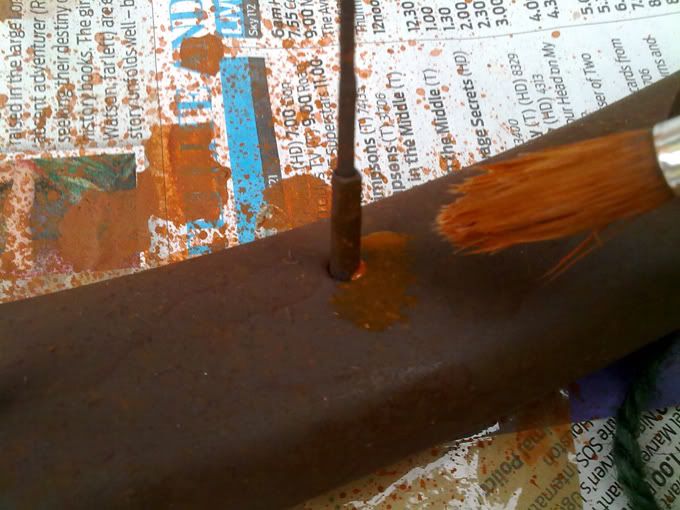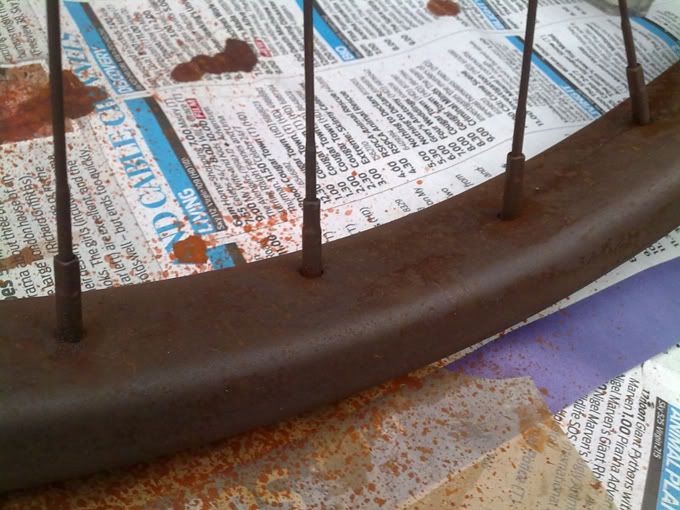 Really with this it's a case of doing it in stages and building up layer by layer.I did use some moss coloured greens and olive greens on the
frame and tank but this doesn't look quite right on the rims for some reason.I may add some more colours once I have the tyres on.
So that's about it for tonight.I still need to finish off the second wheel.It takes so long, but worth it in the end.I need to pop down to my local
bike shop and pick up some new inner tubes.
Charlie