Hey cats! My name is Scott Fischer, and I went to the Brimfield antique show in MA (Just about the biggest in the country!) and I suddenly started noticing bikes again! I seriously have no bought a bike since I was in 8th grade (I'm 38). No joke! I saw a Yamaha moto-bike, and passed on the $300 he was asking for it, BUT I REMEMBERED. You know, remembered, what it was like to lust after that bike as a kid. So the bug had bitten and I find myself here! I've always customized things, from guitars to cars, so this place feels right at home for me!
Next thing you know I am scouring CL for bikes. Thought I'd start with a bit of muscle, and there it was, '69 Sears Spyder (with the twin rear brakes). $50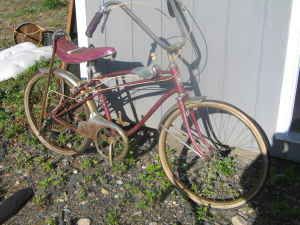 I think it looked way worse in person so we agreed on $35 and I was on my way home, thinking, what the heck did I just buy, yikes! But I started to feel better when the tires held air in the driveway. This is how it looked. I saw some potential. A cheap set of pedals after this, and it is even a rider as is!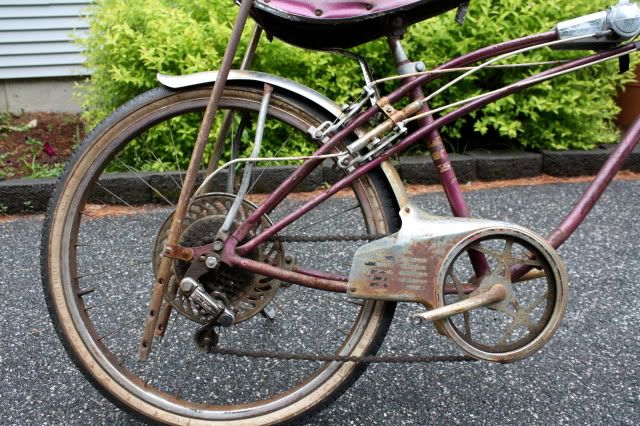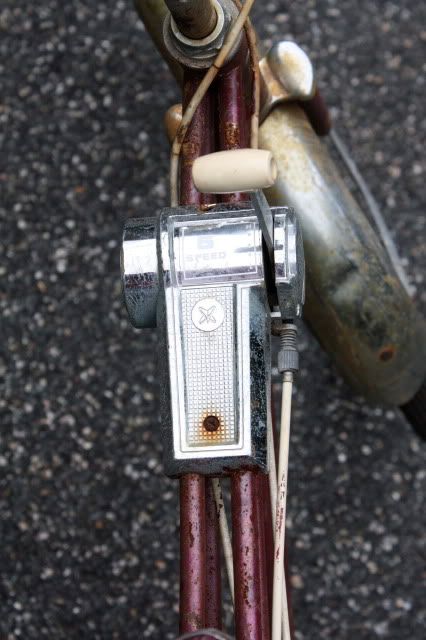 I just got it last Fri, I felt a joy I hadn't known in years just pedaling fiugre 8's in the driveway with this rusty Spyder. But then I popped the rear tire, and broke a rusty spoke, most are frozen and way off. Also STEEL WOOL is the coolest thing ever! I could not believe how well this chrome cleaned up (except the rear tire.)
So it has been 4 days or so, the bike is now fully apart the frame sanded to metal and a healthy coat of Master Series Silver primer (like POR 15) is waiting to be wet sanded down. I have big ideas in my head we shall see how far I get! (I'll start a project thread.)
A bit about me, I am a professional illustrator. I do everything from novelcovers to computer game concept design, to kids books. My latest kidsbook, JUMP has been selected to go into over a million Cheerios boxes this fall, so that is pretty cool!
You can see my Sci-fi fantasy art at my website
http://www.fischart.com
Also I am big into old cars and my breed of choice are Datsuns! I amd a moderator at
http://www.ratsun.net
and have a 1971 521 pickup, and a 1959 Datsun 1000!!!
Here is the 71 (Bet I could fit alot of bikes in the back!)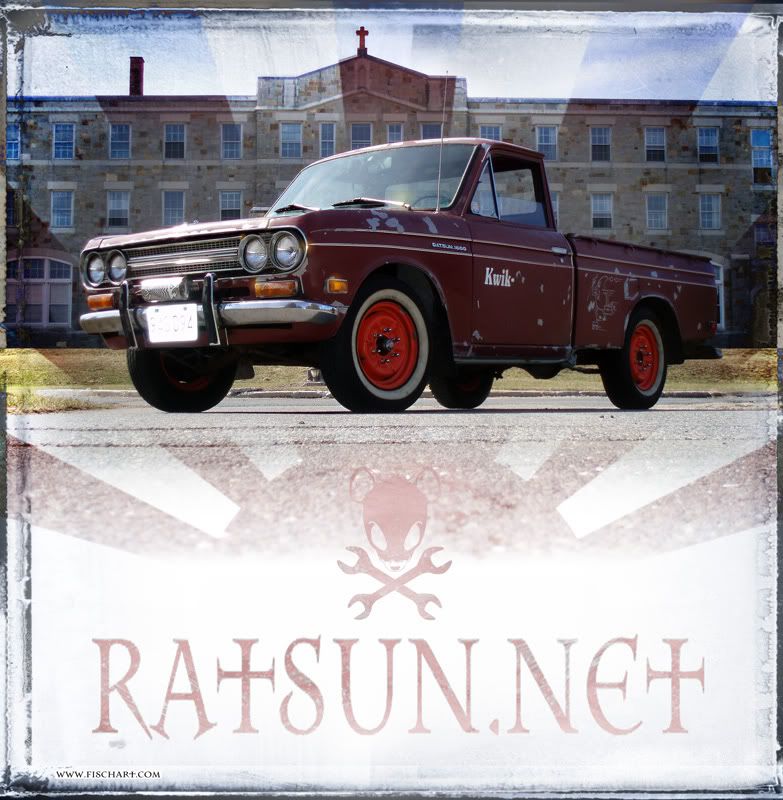 The interior!
Here is the '59 as it sits (w/ me in it.)
Here is where I am going with it! (Photoshop)
Finally I love to draw Datsuns in my spare time (might have to draw a few bikes now too!) Here is my latest based on my truck.
And a link to a bunch more if you are interested!
http://community.ratsun.net/index.php?showtopic=16727
I look forward to digging in more around here!
I met a cool guy yesterday at the Dudly MA show and Swap (first bike show, so fun!) I think his name was Steve? Into muscle bikes. Had done an Iverson up like the starship Enterprise. Has a white goatee. And he said he was a member here, so if you are reading, nice meeting you!!