OK, I'm finally getting around to putting up my "home" page!
I live in southeastern Connecticut, halfway between Boston and New York. We're on the coast, a stone's throw (and we've got plenty of stones!) from Long Island Sound, at the eastern end where there is free passage to the Atlantic Ocean.
The area is old New England, one of the earliest towns in Connecticut and therefore a very old piece of this relatively young country. The city was started in 1646 as a corn-farming colony called Pequot Colony. The name New London came along years later, after the colonists applied to the King of England, declaring themselves worthy of this hefty name. Some of the streets in town, including the one I live on, were laid out as early as the 1600's.
Through the 1700's and mid 1800's the city grew into an important whaling port and shipping center, carrying the trade of the day, be it rum, wood, coal, whale oil, or passenger service.
There has always been an important junction here of land and sea travel. The Thames River (not pronounced Tems as its British counterpart is) was the last piece of the puzzle for continuous rail service when its first bridge was built in 1886. That bridge was briefly the longest train bridge in the country, hard to imagine now but today we have far better construction technology.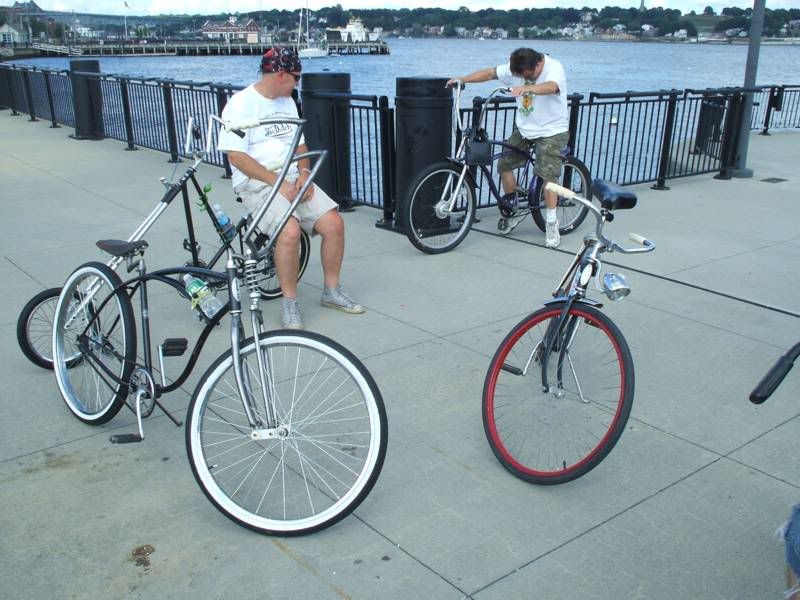 Today the city lies on the major train line from NY to Boston, carries freight north on two separate lines to different parts of Canada and northern New England, has a major deepwater port, pier, and warehouse facility, and joins together passenger service from rail, taxi, bus, and ferry service to 4 ports in 3 states!
In town is the Coast Guard Academy, where young men and women train to be skilled officers. America's Tall Ship, the Eagle (actually a WWII war prize we confiscated from the Germans!) is home-ported here and is a daily sight in our harbor. There is a working Coast Guard station with working vessels, and soon to be built the National Coast Guard Museum!
Across the river in Groton is the US Navy Submarine Base New London (NLON) and directly across from our city piers is one of only two plants in the country where our nuclear submarines are built, Electric Boat (EB, part of General Dynamics). These days, its comforting to know that EB is actually hiring skilled workers!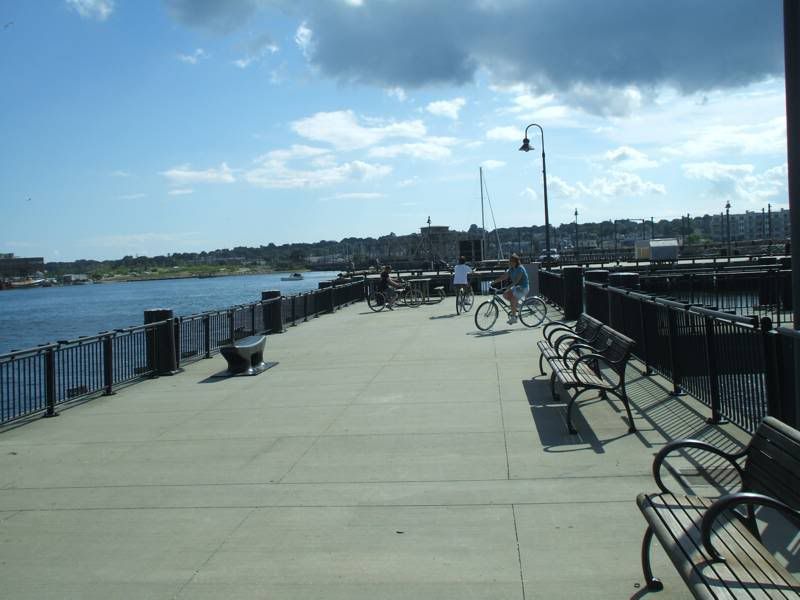 Submarines are seen at least weekly departing the river for secret missions, and heading up the river on returns from successful sea trials and long deployments. There are often families waiting to wave off or welcome home the sailors from various waterfront points. It's a sight you can see in few other places in the country, and I'll bet darn few of them can you watch from a waterfront deck enjoying a coffee and danish in the bright morning sun.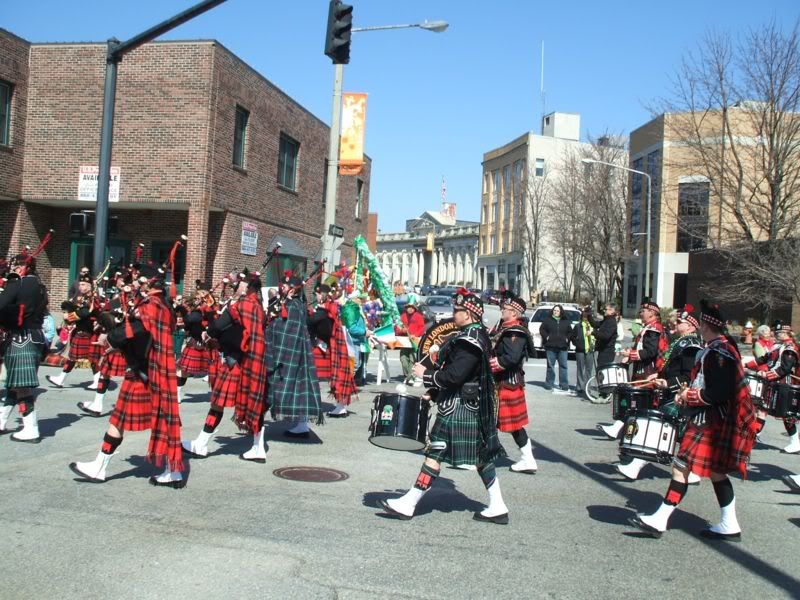 The streets in New London are mostly old and narrow. A lot have cobblestones or something worse underneath. The city does enforce building codes requiring granite curbs on all streets throughout downtown, which maintains a certain vintage look to the place. They've also put in a lot of old cast-iron style lamps along with underground utilities throughout downtown.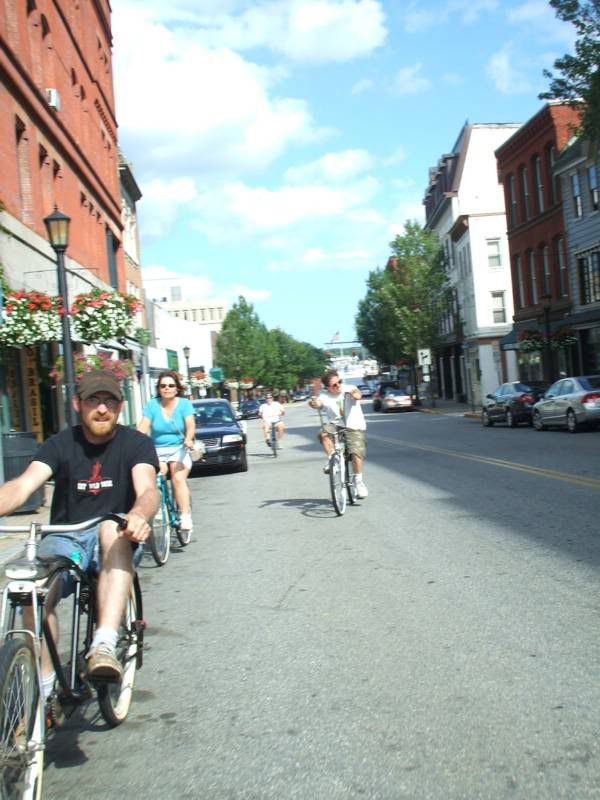 Here's my place and my street: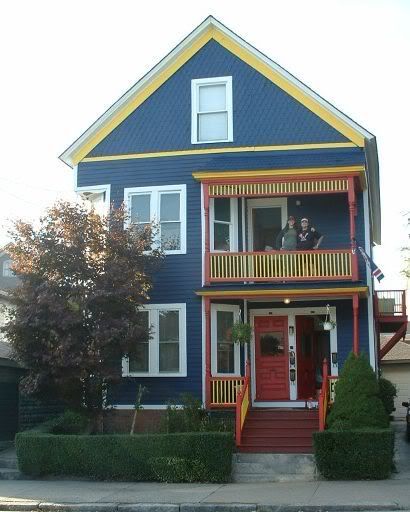 My house is from the 1890s. The house to the left of me is from 1850, and the one to the right, from about 1800. My hosue was a "fill in" on a postage stamp of a lot, but I have everything I need without any grass to mow. The end of my street has the oldest house in the city, from 1650, and the second oldest, built by the 2nd generation of the same family. The entire area was once farmed, and old streams once ran down the hills here to a big cove in the middle of the city. This cove has been mostly filled in, and turned into a major section of downtown.
I work in a paper mill, in a nearby town. This mill is the oldest continually operating paper mill in the country. The old paper machine, in use from 1870 to 1995, made box cardboard, like for cereal boxes. Grey stuff with white facing that can be printed on. They made the boxes, printed and punched them, and shipped out to manufacturers. They also used to pollute the local river with waste. The new paper mill, a huge structure up behind the original, makes brown paper for cardboard boxes. We no longer produce the boxes but other locations of our company make boxes, and we supply dozens of other box plants around the east and into Canada. All of our product is recycled from old boxes, and we even use reclaimed water from the town. I do maintenance here and work on electrical, mechanical, and hydraulic systems, as well as keep forklifts running when I have to. I ride my Worksman INB around in the plant as an efficient way to travel to different parts of the plant quickly.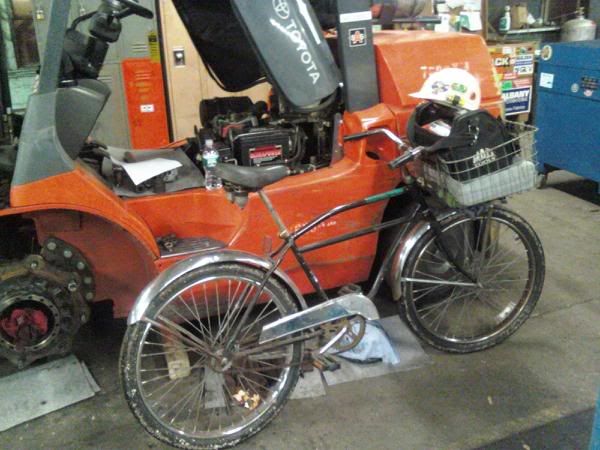 Getting back to New London...
One of the best times of year to be here is in July, when we host Sailfest. It's a big party downtown where all the streets are blocked off and there are vendors and food and rides. It's a 3- day festival leading up to a huge fireworks display on Saturday night. There are bands playing on 3 stages and the entire waterfront park area is filled with 200000 people visiting to see the fireworks display over the river. If you've never seen fireworks done over a big harbor like this, the sight will be one you'll never forget. This year, I managed to get into a secret spot between the train tracks and the Coast Guard piers. There was a small rocky beach with nobody in front of me, and I got better pictures than the local paper.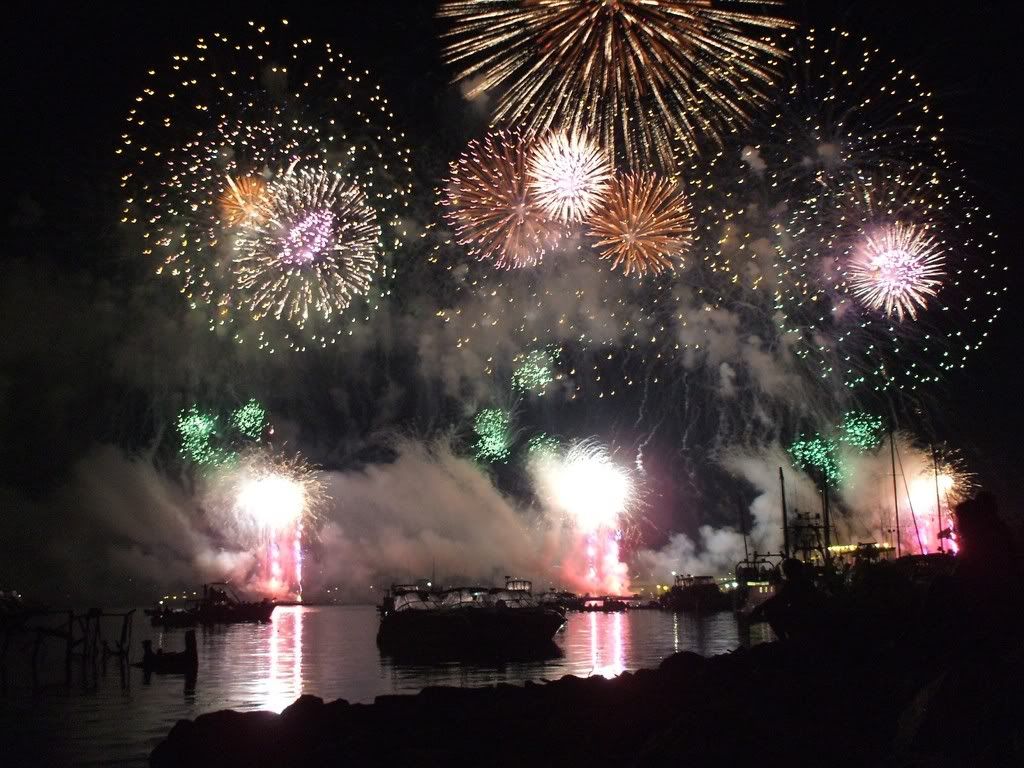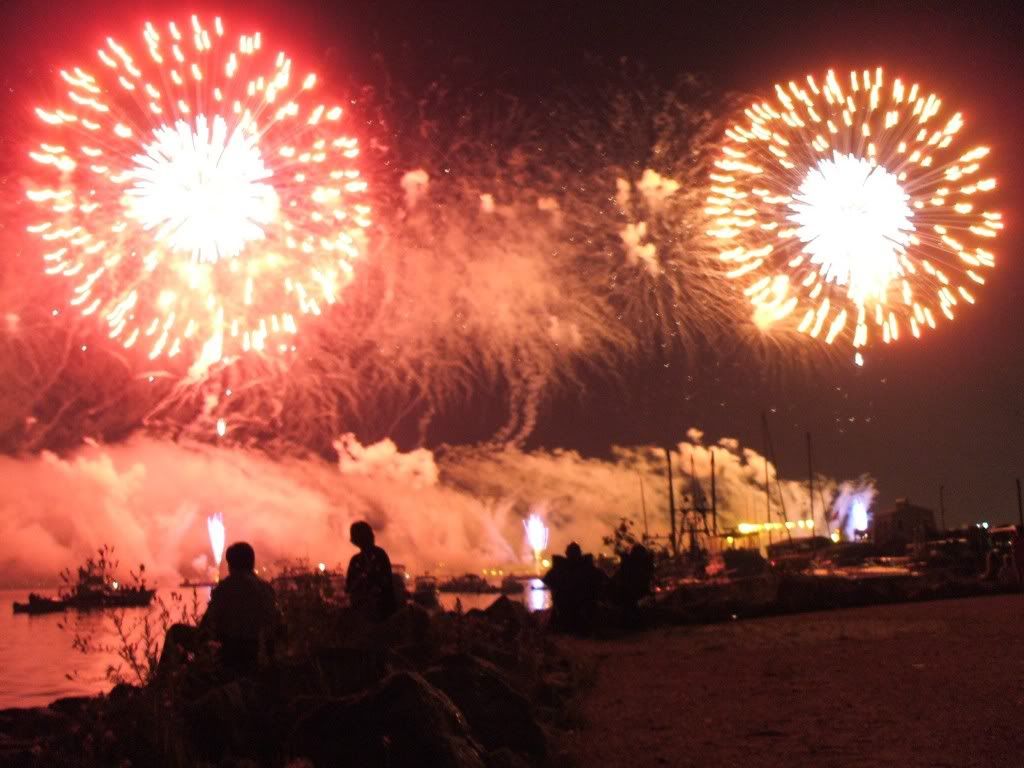 That spot is actually quite close to a state park with this memorial, which is the Merchant Marine WWII memorial.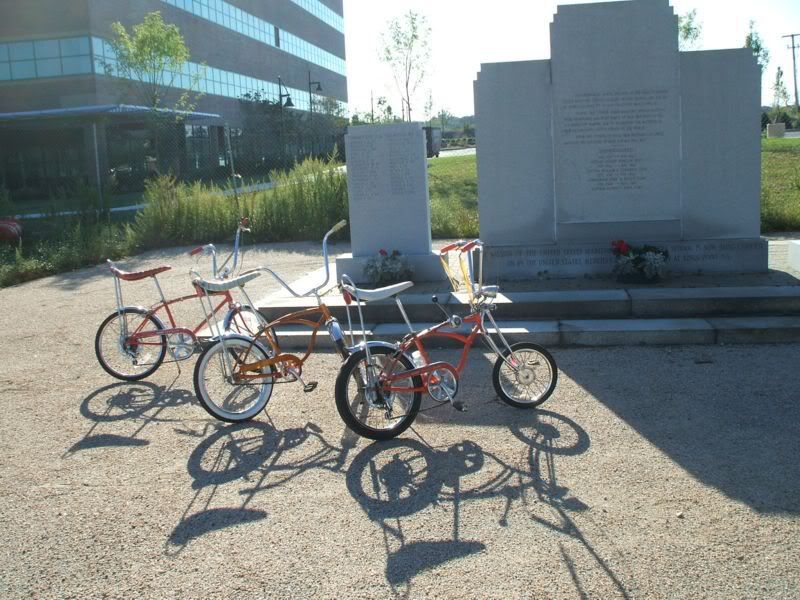 Thats all in a section of town known as Fort Trumbull, which unfortunately is also where New London won, but the people lost, in a civil lawsuit that went all the way to the federal Supreme Court. That was all about the state power of eminent domain. Let me tell you, it's stressful being a test case. The fort and state park itself are beautiful. The rest of the neighborhood is a wasteland. Part of it is where the CG will build their museum, and the one standing office building to the left in the above picture, is the only sign of success in the region.
Nice:
Not nice: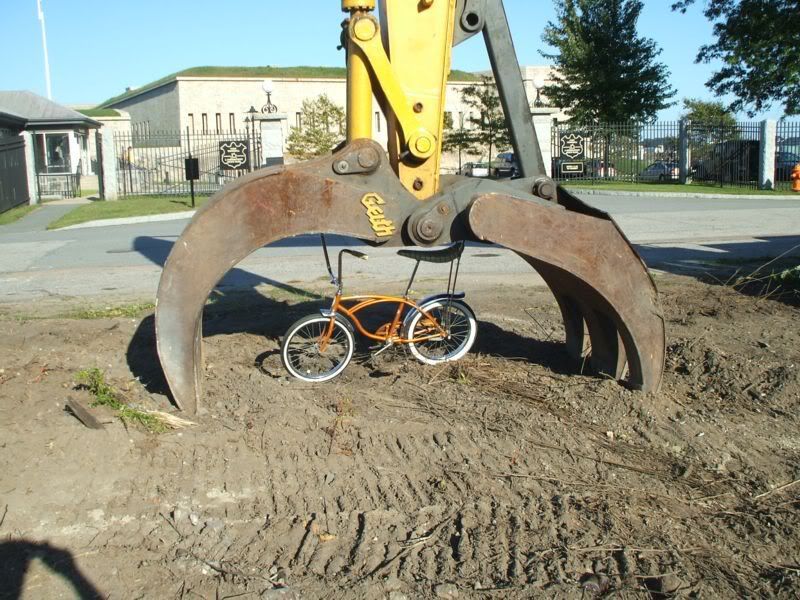 There's much more to tell, about art galleries, successful building restorations, cool bars, a sweet beach at the south end of the city, great restaurants, and a performing arts theatre which is second to none. But like this post, it's a lot squeezed into a small space. We're only 6 square miles, and with 27000 residents it's pretty packed.
I will update this with more pics as I locate them. Hope you all enjoy it. Rat Rodders and other friends are always welcome to visit whenever they're in the area!
--Rob (NLCTVWguy)