Update 6/4/11:
I finally got a little time to spend working on Ground Zero, and not having to do anything else for a little while. Got another 24" mountain bike wheel built up with my fat Kenda tires just to check fit with all the other pieces while waiting for the real rims... and blew up a tube in my face! Oh that was exciting- tube ripped along its length and almost threw the tire off the rim. This rim I grabbed is narrower than the first set, and didn't grip the tire as well. So second time around I left the tire real soft... it gets that dragster wrinkle-wall look and I like it!
Everything's a good fit in back. Ran off to the bike shop to get some little parts, will hopefully come up with a different cap nut for the top of the stem and some other odds n ends. Turns out the shop around the corner stocks the pedals I mail-ordered... figures, right?
Up front, I drilled a bracket to mount the headlights. Figured this will be simplest - mounted to the 2 holes for the original reflector bracket on the fork. Oddly, these identical Union lights had the pressed in lockwasher on opposite sides of their mounting tabs, and one mounting hole was smaller than the other.
While I had the bike out at the bike shop, I attracted the attention of at least 15 kids walking by on the street. They all stopped and came up to the shop and checked it out, asked a million questions. They wanted to know mainly what it all cost. Kind of hard to put a price on it! The feedback from the kids was all positive- they think it's cool!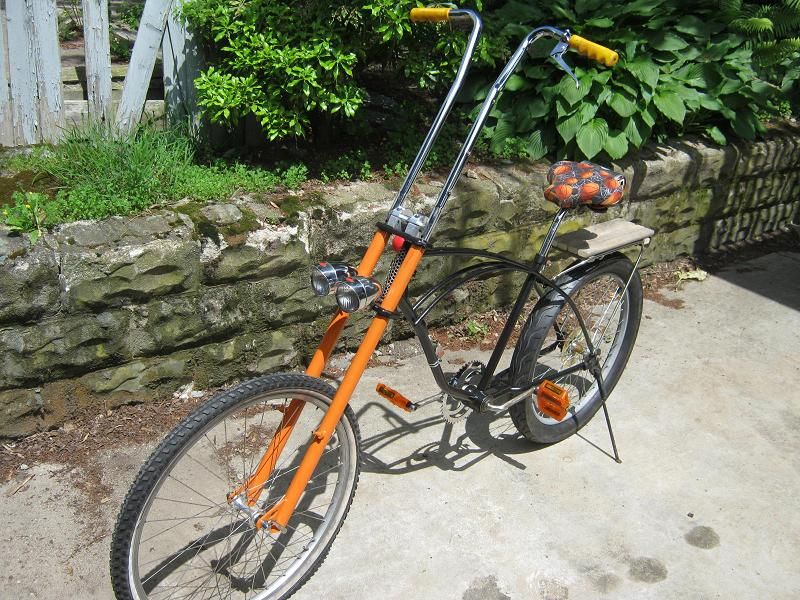 It's getting there! There may still be a surprise or two before I call it finished though...
--Rob