Let's see it's been a busy few weeks here at the old homestead. 3 weeks ago I spent a most wonderful 3 days at a church retreat called Cursillo, that was a very intense and moving experience that I recommend to anyone. My youngest daughter turned 18 last week and graduates from high school this week, so I plan to throw a little shindig for her on Saturday.
Plus last week I finished up a sculpture for my best friend Carson. About 7 years ago he was diagnosed with Lou Gehrig's (ALS) and has been getting weaker by the day ever since. ( he is now almost totally unable to move or breathe without help )
This started when he built an apartment on the side of his home so that he would have a place to see and feel connected to the outdoors as he lives out his last days. At one corner of this extension is a rain gutter that just discharges onto the ground and he asked me to build him something to keep the water from eroding the ground. So I started to talk about various concrete shapes and he said, "no I want you to weld something together out of old bicycles." Other than than that I was given carte blanche to do whatever I wanted. Carson used to run the LBS here in Hartsville years ago, and he and his son were really serious about racing, but he has fallen in love with the whole idea of Ratrod bikes since I've been sharing this site and my bikes with him. Sometimes he will come out to my shop and sit there and just watch me work, while dispensing plenty of helpful advice of course.
On to the pics!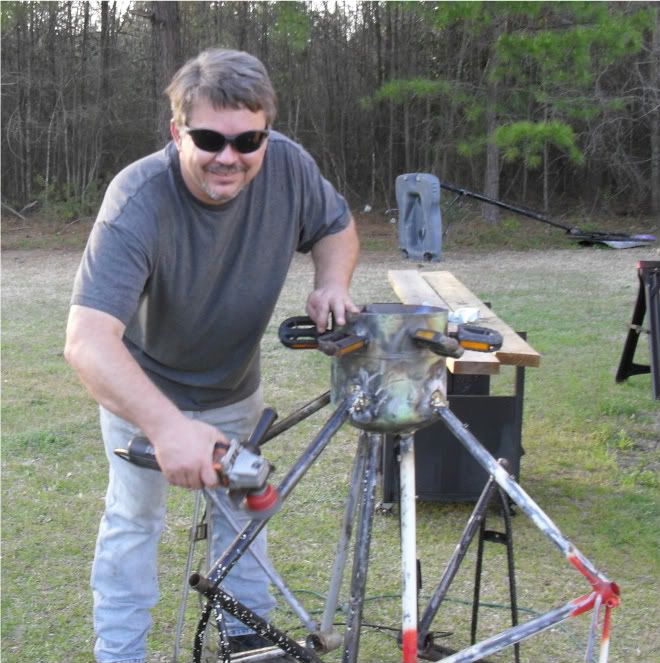 Flower Pedals!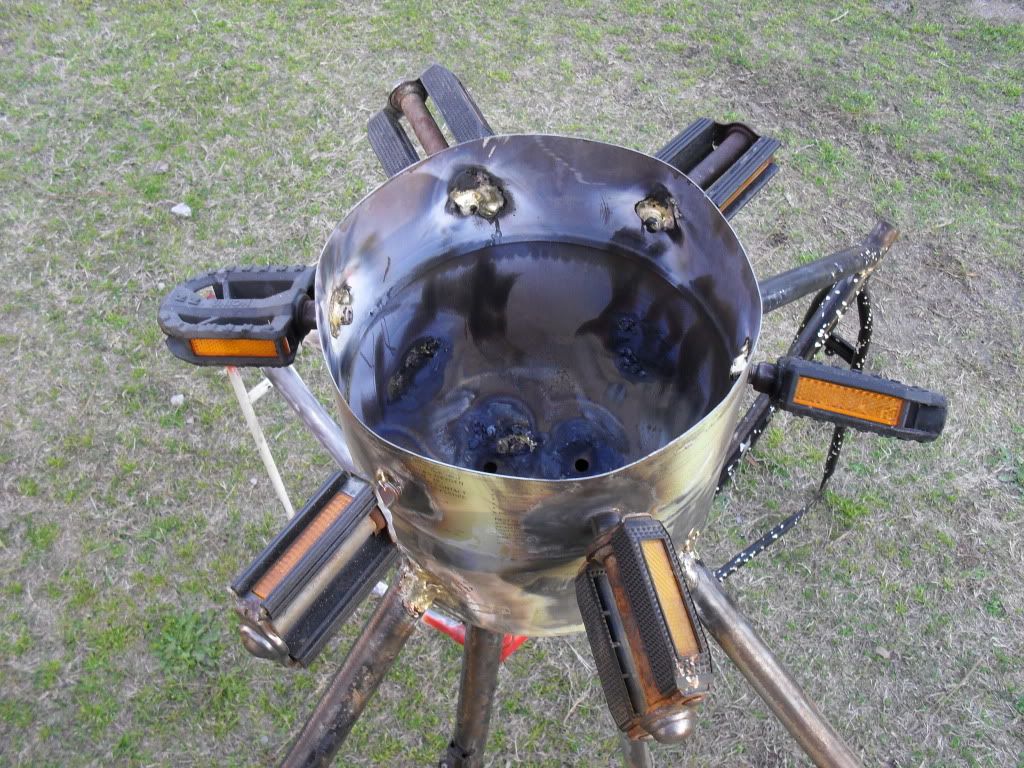 And finally done with my favorite part & tool fetcher in the background!
Yes when the water falls out of the gutter it fills up the flower head runs down the lower frame tubes out through some copper tubing and turns the wheels! If you guys want, I'll try to post a video later.
And please pray for my bud and his family.
PEACE Y'ALL
FLOYD